Kieval Lecture Series
You are here
THE KIEVAL LECTURE HAS BEEN CANCELLED AND WILL BE RESCHEDULED!
The Kieval Lecture Series is funded through a bequest of the late Dr. Harry S. Kieval '36, a longtime professor of mathematics at Humboldt State University in Arcata, California, who died in 1994. In addition to this lecture series, his estate provides funding to Cornell University for a similar lecture in physics, as well as annual prizes awarded to outstanding seniors in both mathematics and physics.
Upcoming Lectures
September 16, 2019 - THE KIEVAL LECTURE HAS BEEN CANCELLED AND WILL BE RESCHEDULED!!
The Kieval Reception starts between 3:15 p.m. and 3:30 p.m. in 532 Malott Hall.  The Lecture will follow starting at 4:00 p.m. in 228 Malott Hall.
Speaker:  Nancy Kopell of Boston University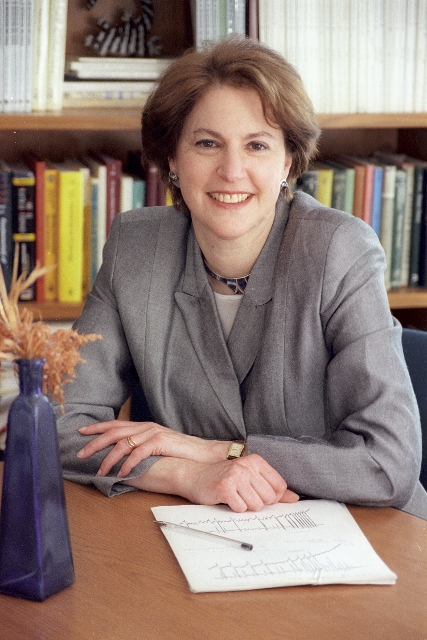 Title: Brain Rhythms in Health and Disease
Abstract:  The brain produces electrical activity at all times and in all states.  This activity includes "brain rhythms", patterns in which there is roughly periodic behavior in some subset of the cells or combinations of such behavior.  It has long been known that there are associations between cognitive states (such as attention or sleep) and specific brain rhythms.  But it is not well understood how these rhythms come about and how they participate in brain tasks. This talk gives an introduction to the nature of these rhythms and explains why mathematics is important to understanding where the rhythms come from and how they may be used.  Examples are given to show how brain rhythms can be useful for cognition, and how changes in them (in disease or anesthesia) can affect normal workings of the brain. 
If you need any accommodations to participate in this event (e.g., dietary constraints, mobility constraints, etc.), please contact Heather Peterson.
Previous Lectures in the Series
Pamela Harris, Williams College
Invisible Lattice Points (October 2018)
Moon Duchin, Tufts University
Political Geometry: Mathematical Interventions in Gerrymandering (October 2017) 
Frank Farris, Santa Clara University
The Mathematics of SymmetryScapes (September 2016)
Dror Bar-Natan, University of Toronto
Knots in Three and Four Dimensions (September 2015)
Arthur T. Benjamin, Harvey Mudd College:
Secrets of Mental Math (March 2013)
Richard Schwartz, Brown University:
Shapes Emerging from Subdivisions of Triangles (November 2011)
Peter Winkler, Dartmouth College:
How Puzzles Reshape Our Intuition (November 2010)
Keith Devlin, Stanford University (executive director of the H-STAR Institute):
Using Mathematics to Solve Life's Mysteries (September 2009)
Allen Knutson, University of California at San Diego:
The Mathematics of Juggling (October 2007)
Richard Hamilton, Columbia University:
The Past and Future of Geometric Flows (September 2007)
Persi Diaconis, Stanford University:
Mathematics and Magic Tricks (September 2005)
Jeff Weeks, Topology and Geometry Software:
The Shape of Space (April 2004)
Jordan Ellenberg, Princeton University:
The Mathematics of Set -or- Everything I Know About Fourier Analysis I Learned from Playing Cards(April 2002)
(sponsored by the Student Activities Finance Commission)
Richard Guy, University of Calgary:
Fun from Mathematics & Mathematics from Fun (November 2001)
Colin Adams, Williams College:
Real Estate in Hyperbolic Space: Investment Opportunities in the Next Millenium (September 2000)
Peter Sarnak, Princeton University:
Hilbert's Eleventh Problem: Representing Integers by Quadratic Forms (April 2000)
(sponsored by the Student Activities Finance Commission)
Joan Birman, Columbia University:
Parametrizing Knots (November 1999)
John Milnor, SUNY Stony Brook:
Pasting Together Julia Sets (October 1998)